Doctors Concerned Over Severity of Flu Cases
Monday, January 13, 2014
By: Alicia Mandigo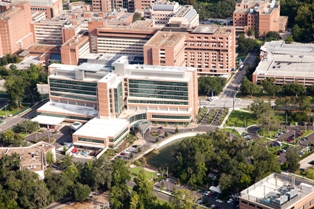 UF Shands Health Hospital is reporting some alarming numbers when it comes to the flu. Shands says it's seen a dozen deaths and more than 150-flu-related hospitalizations since October. It's not so much the numbers that have Shands doctors concerned- it's the severity of the cases.

[UF Health Shands Hospital in Gainesville]
University of Florida Emerging Pathogens Institute Director Glenn Morris says the severity of this year's cases is what prompted the hospital to speak out.
"Our doctors are coming to us and saying , you know, these folks are really sick, and we need to let know folks out there that they need to be getting vaccine. So part of the objective here is to tell people, you know, the flu that's circulating this year is pretty nasty. You really need to get a flu shot, we're not kidding," he says.
Morris says of the 12 Shands patients who died of H1N1, five of them were under the age of 40. He says people need to realize that hospitals aren't required to report flu activity to the Centers for Disease Control and Prevention, so flu in Florida may be more widespread than local headlines suggest. In early January, the Brevard County Department of Health reported a woman in her 30's died from an H1N1 infection.